With federal funding opportunities from the Infrastructure Investment and Jobs Act becoming available, State energy offices across the country are looking for innovative ways to put these funds to work to equitably increase adoption of energy efficient appliances, but solutions to this long standing problem don't come along everyday. Enter Enervee Eco Financing. Eco Financing is an integral part of Enervee's efficient shopping ecosystem that eliminates the upfront cost barrier to buying efficient by providing low-interest microloans for efficient appliances.
On March 17, Enervee presented to members of the National Association of State Energy Offices (NASEO) Financing Committee about the promising results from some of our first Eco Financing program deployments. Together with our partners from the California Alternative Energy & Advanced Transportation Financing Authority (CAEATFA) and New York State Energy Research and Development Authority (NYSERDA), we answered questions from NASEO members about how efficiency microloan programs can meet federal funding opportunities, the differences between Property Assessed Clean Energy (PACE) and microloan programs, and how programs like Eco Financing can best serve historically underserved communities.
California plans to double efficiency savings by 2030 – efficient product financing is central to their plan
To kick things off, Miriam Joffe-Block, the Program Manager at the California Hub for Energy Efficiency Financing (CHEEF), provided some background on the GoGreen Home Financing program, which is bringing Eco Financing to millions of Californians. She said that "through the GoGreen Home Program, we provide a loan loss reserve to lenders which allows them to provide low-interest financing to credit-challenged borrowers who wouldn't otherwise be able to access credit on favorable terms. This enables products like Eco Financing which promote more equitable access to efficient appliances"
The GoGreen Home program partnered with Enervee to develop a new microloan pathway, with the goal of creating an online retail approach with point-of-sale instant credit approval for efficient appliance purchases through utility marketplaces. The microloan program was designed to complement their standard loan products, which provide loans for larger home retrofit projects, like weatherization and HVAC system installations. Because so many appliance purchases are made directly by consumers at retail, the microloan program is able to influence a large swath of appliance purchases that were previously not captured by the contractor model.
Eco Financing was the first microloan product supported by GoGreen Home [1], which required a regulatory change to create more flexibility on how data and certifications are provided, loan underwriting, and contractor requirements. Miriam also explained the bigger picture goals for creating the program, noting that efficient appliance financing supports the state's goal of doubling efficiency savings in buildings by 2030 and its larger goal of reducing GHG emissions 40% by 2030.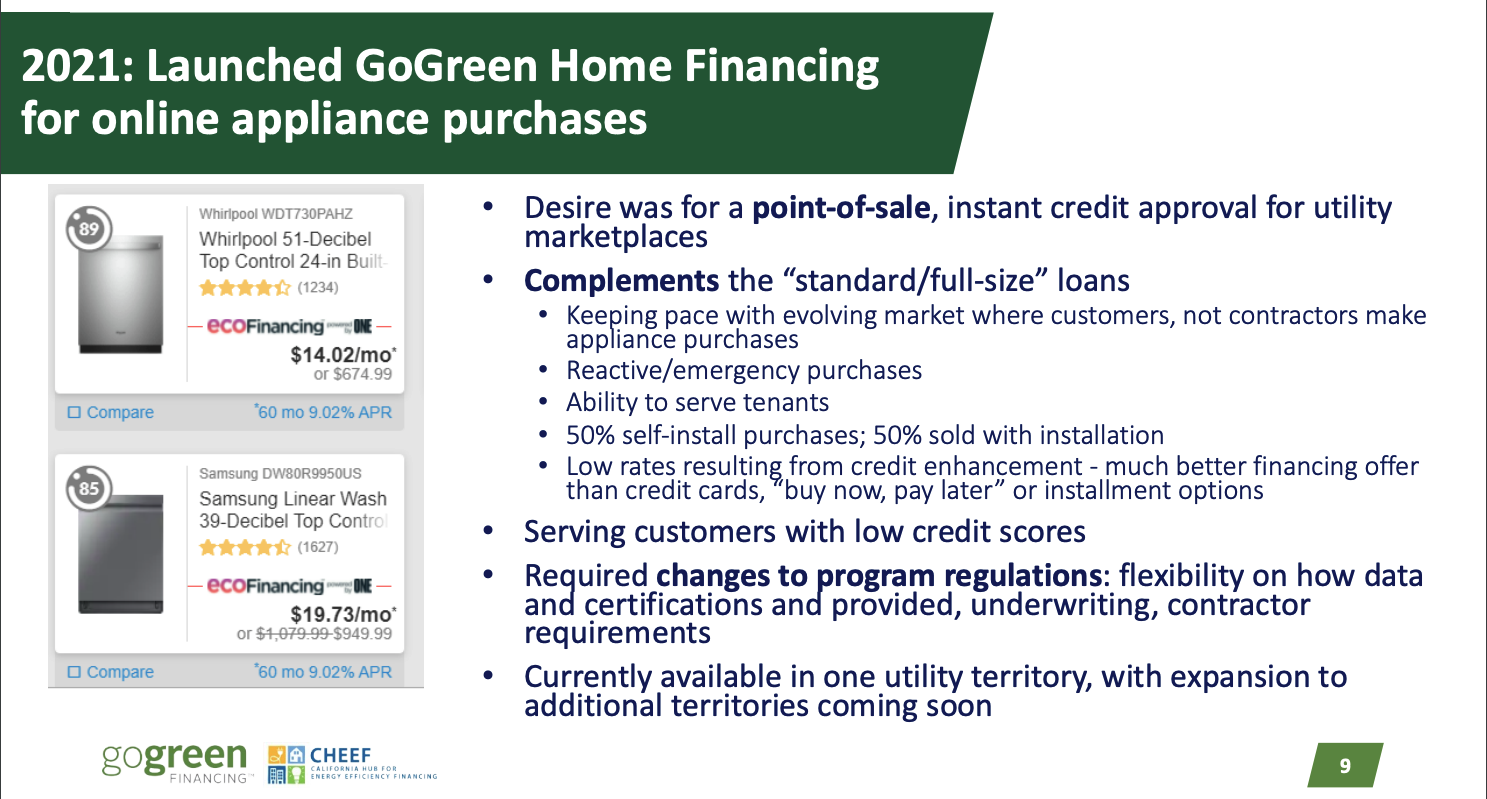 Leading with Equity
Enervee's own Anne Arquit Niederberger then described how Eco Financing works, its equity benefits, and the early results from our first deployment in California, including that 86% of Eco Financing purchases have gone to historically underserved borrowers. In the slide below you can see some of the equity metrics from our initial Eco Financing deployment in California. Nearly two thirds of financed purchases were from homes located in LMI census tracts and over half of program loans have gone to borrowers with credit scores below 640.
Anne said "these results are a major proof point that Eco Financing is doing exactly what CAETAFA, NYSERDA and Enervee set out to achieve – to make access to new energy efficient appliances a reality for all."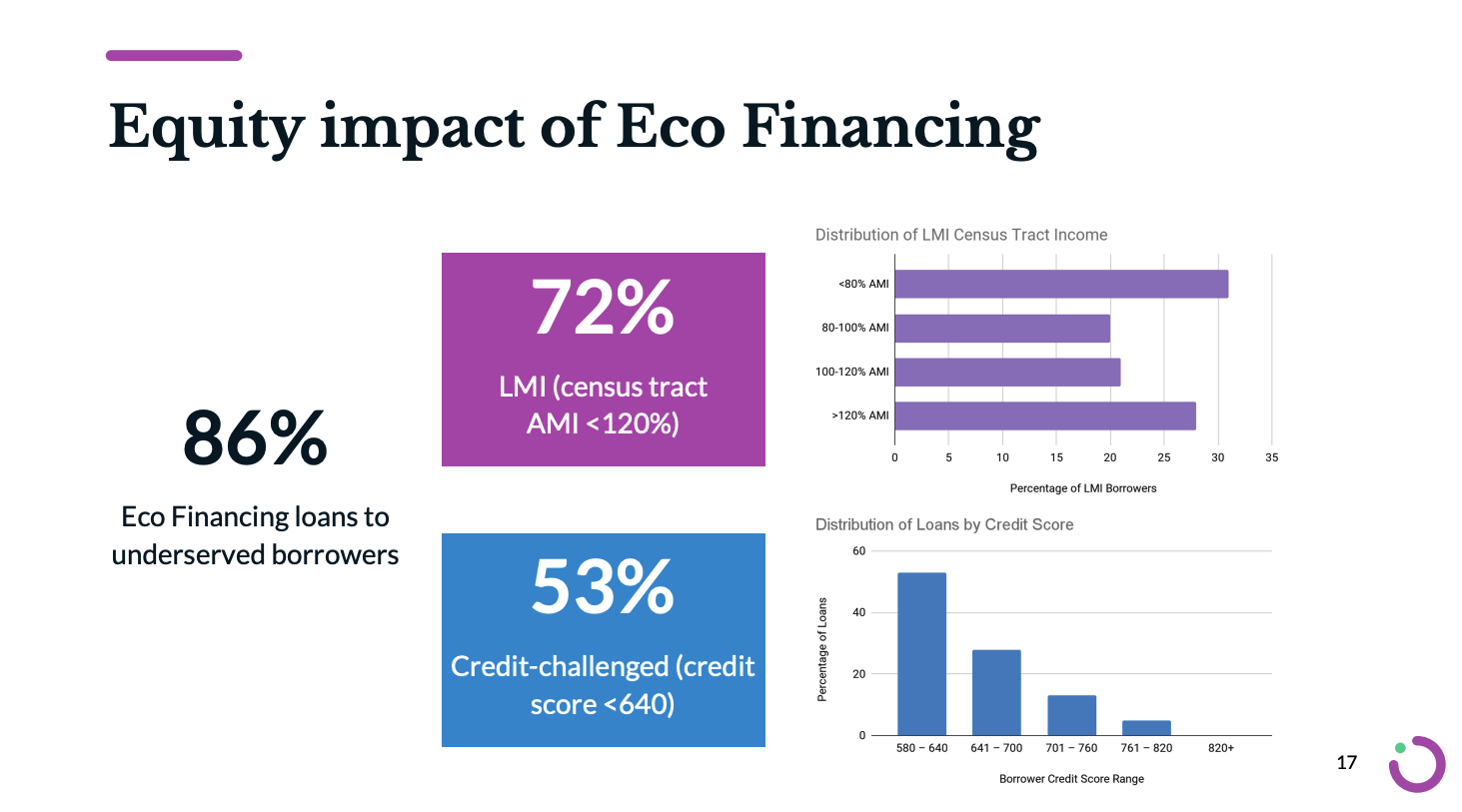 Eco Financing for Low- and Moderate-Income New Yorkers
This spring NYSERDA is launching the New York Efficient Marketplace, featuring Eco Financing. NYSERDA Director Chris Coll joined to tell NASEO members about the launch, their focus on equity, and how they're modernizing their direct install program. They're launching the Marketplace because there's a need for innovation when it comes to reaching the LMI segment. Currently, there's significant spending but only one percent of LMI households are being reached by efficiency programs each year.
The program will be available statewide rather than through individual utility marketplaces, making the website the one stop shop for low-interest efficient appliance financing for millions of New Yorkers. Similar to the California program, NYSERDA will offer a loan loss reserve which lowers interest rates, and also includes a carveout for at least 35% of their low interest loans to go to income-qualified or credit-challenged borrowers.
The program will build on the success of NYSERDA's EmPower NY direct-install program by moving to an online retail model. NYSERDA is offering an integrated shopping experience for income-qualified customers who will be able to shop for efficient appliances on the marketplace, apply any EmPower credits to their purchase, and pay with Eco Financing.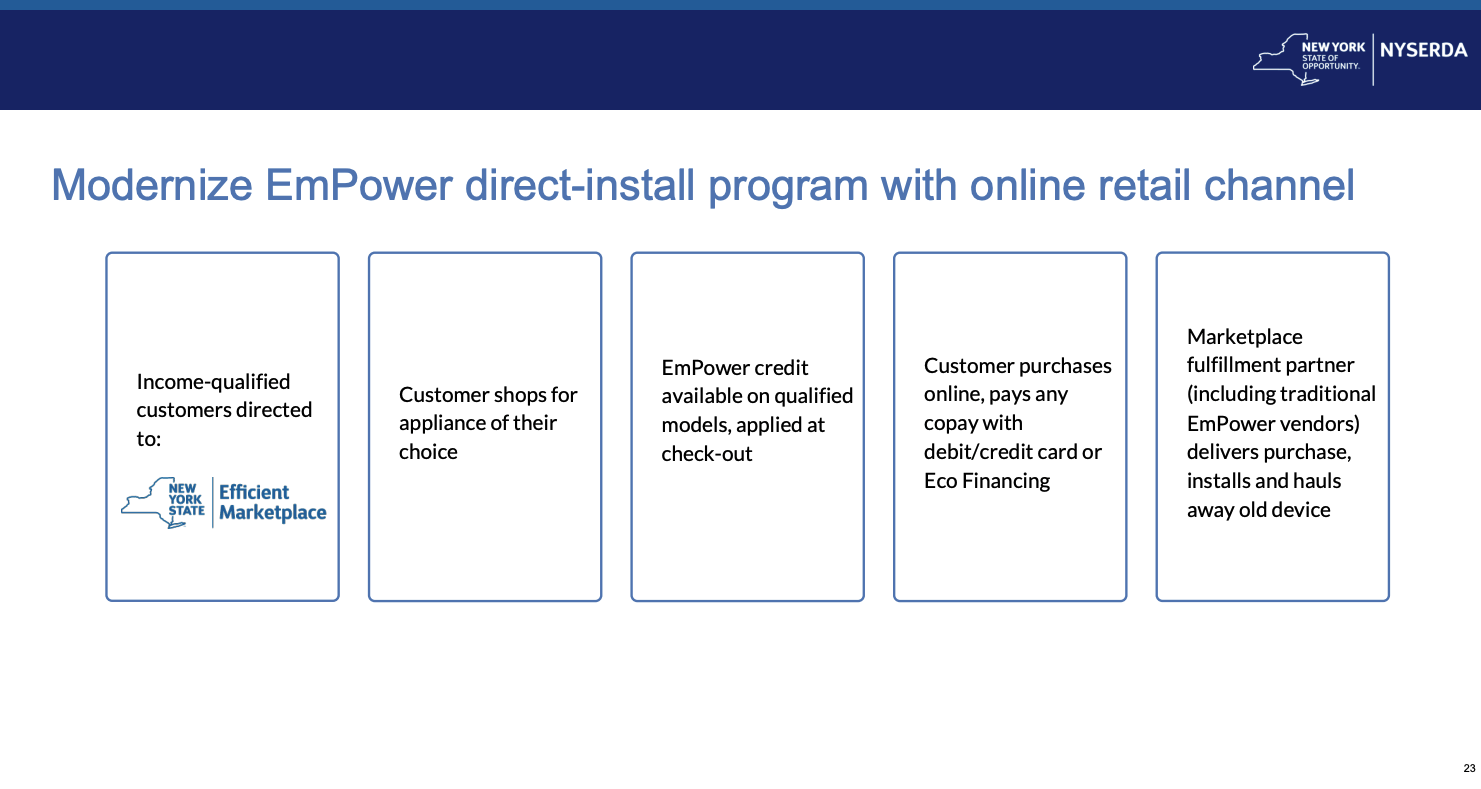 Next Up: Eco Financing Coming to a State Near You!
We're grateful to share this update with NASEO members on our progress in New York and California, and we're looking forward to the opportunity to work with other state energy offices to bring the benefits of Eco Financing to millions more Americans across the country.
[1] California State Treasurer Press Release: New Microloans Make it Easier to Buy Energy Efficient Appliances
‍