Although market shares of EV sales remain in the low single digits — with California leading the pack at 4.6% for the Jan-Jun 2017 period — the trend is clearly upward, with EV sales nationwide over 40% higher than the same period in 2016 [1]. Not only are policymakers, cities, employers, equipment manufacturers, and utilities putting charging infrastructure in place; vehicle range and model choices are increasing. According to EV Adoption [2], the Chevy Bolt EV (with a range of 238 miles), and the most affordable Tesla, the Model 3 (with a range of 310 miles), offer much better range than prior models and have the lowest cost per mile of range. And early adopters are taking notice.
But car shoppers still have to consider the EV alternative in the first place, and be able to weigh EV pros and cons relative to another internal combustion engine (ICE) purchase. The good news is that EV awareness is on the rise.
In our own survey of people in CA, FL, MA, and NY, over 2/3 of respondents said they're likely to consider an EV (either BEV or PHEV) for their next car purchase. For over half, if they were to buy a car within 6 months, it would likely be an EV. Given that these numbers dwarf the actual market share of EV sales, social desirability bias (being swayed toward what's perceived to be the socially acceptable answer) is most likely in play. Which is no small victory in itself.
When a random sample of respondents believes that it's desirable to be seen as stating a preference for an EV purchase over an ICE purchase, we've come a long way.
Research by Enervee and others shows that people generally think it's important to purchase consumer products that make efficient use of energy. Upwards of 60% of survey respondents in select European countries and the USA think it's important to buy energy efficient appliances [3].
When it comes to cars, an overwhelming 91% of Americans believe it's important to buy a car that's inexpensive to operate (low fuel cost), and over 60% think it's important to buy a car that has zero emissions or is eco-friendly, with another 18% sitting on the fence.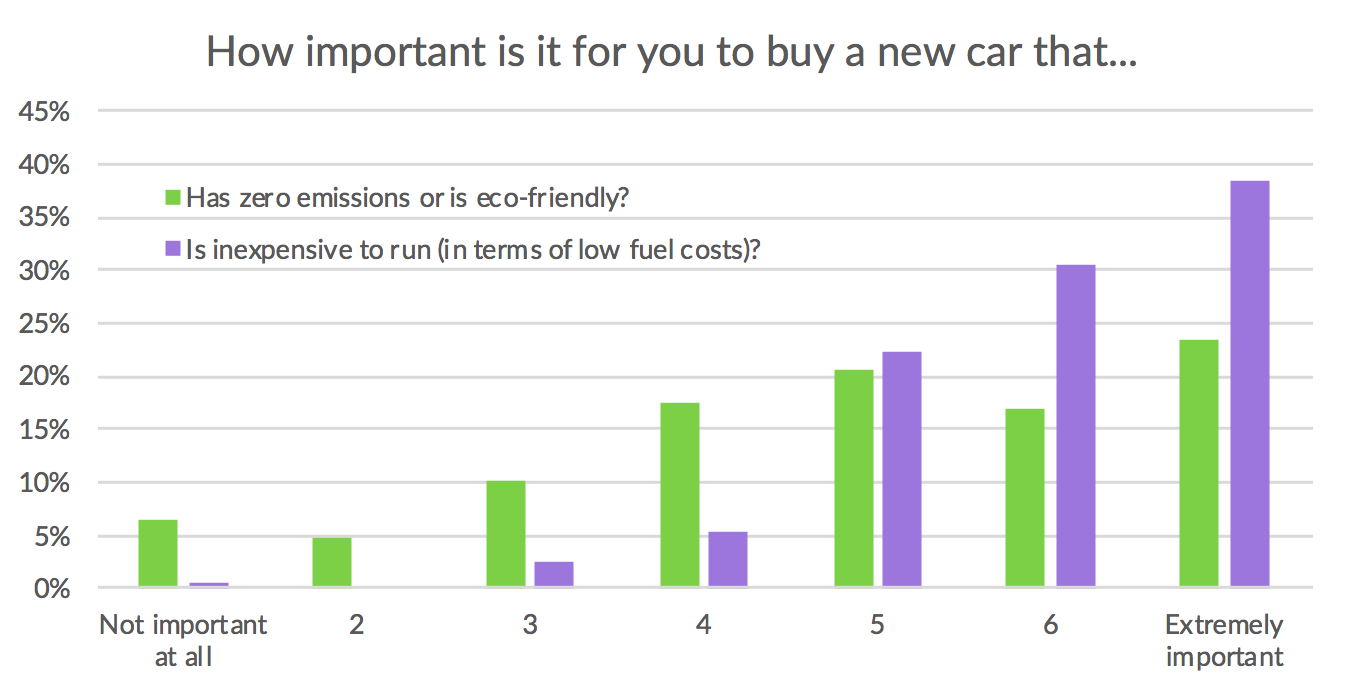 Nonetheless, sales figures, web traffic and surveys reveal that the vast majority of car shoppers still aren't actively shopping for EVs. So how can we help someone in the market for an internal combustion engine vehicle discover that an EV just might be their next dream car…a car that meets their aspirations for clean vehicles and need for affordable options suited to their specific situation?
Consumers have given us the answer.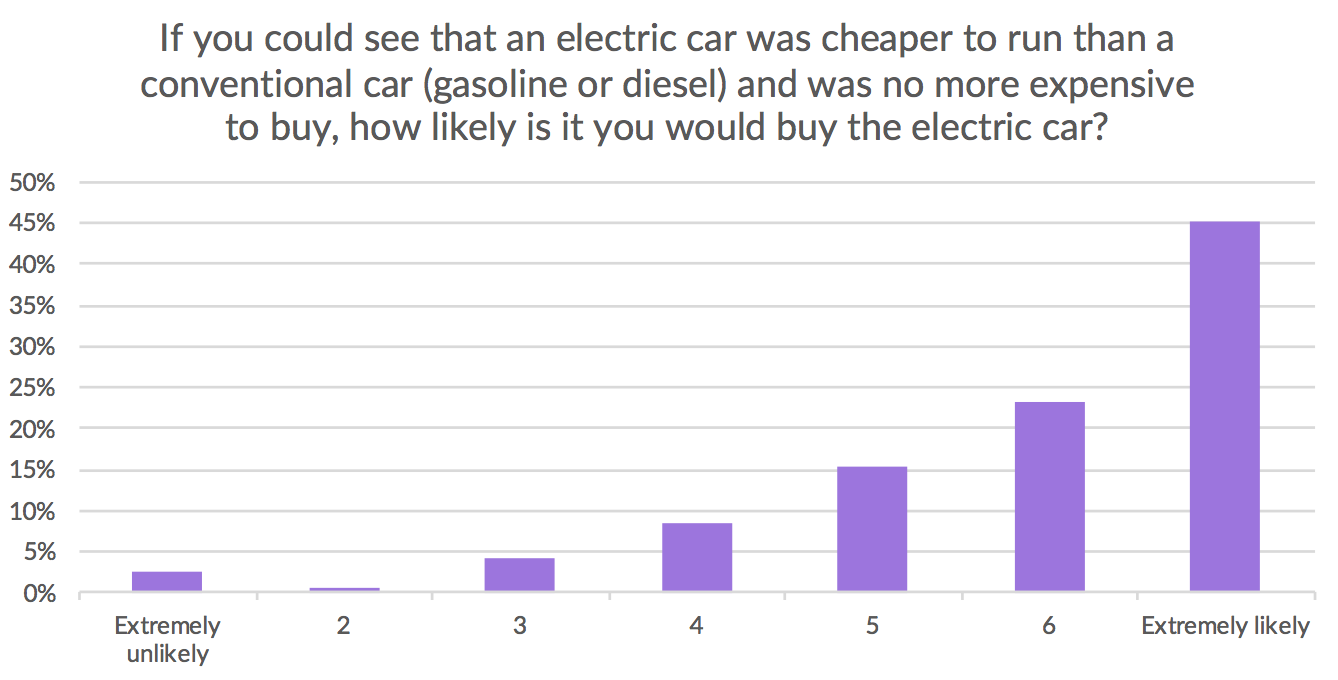 Armed with a simple and credible way to choose vehicle models that are zero-emission/eco-friendly, inexpensive to operate and don't cost more to purchase, 84% would be likely (45% extremely likely) to opt for an electric over a conventional car model.
Despite all of the established car aggregator and specialized EV websites that seem to be popping up daily, the car market remains stubbornly intransparent when it comes to providing consumers with the information they need to choose the type of vehicle they actually prefer – as opposed to merely picking by default, based on what's presented to them.
Getting answers to basic questions is a major research project. What's the relative eco-efficiency of one model compared to another? How would my fuel costs differ? How much would models cost after all incentives are applied? When the search is so difficult, people rationally default to picking their car based on incomplete information, rather than being able to choose a model they prefer [4].
This is where energy providers come in.
According to Lisa Wood, VP of Customer Solutions for the Edison Electric Institute, the role of investor-owned utilities is "to help to create a level playing field for EVs" [5].
People already have a contractual relationship with their energy provider. And the overwhelming majority (69%) believe that their energy provider should help them understand the benefits of EVs over conventional vehicles. And EV manufacturers agree. GM's director of advanced commercialization policy, Britta Gross: "It's critical that all utilities are fully involved and directly engaged in growing the EV market" [6].
This presents a great opportunity for utilities to bolster their "trusted advisor" status, by helping their customers make good choices in one of the biggest purchase decisions they are likely to make.
Yet with customers asking for guidance on EV benefits, only 19% of those polled think their energy provider is doing enough.
What support are these unfulfilled customers longing for from their energy providers? They are looking for exactly the type of information that would allow them to choose among all vehicle options those models that meet their aspirations and needs.
Fully 95% would find an online tool to compare different car types (diesel, gasoline, electric), in terms of purchase price and running costs, useful (58% extremely useful).
In addition, utilities are optimally placed to provide information on other considerations that come into play when making an EV buying decision, things like home charging equipment & installation, time-of-use electric rates and solar options to charge green.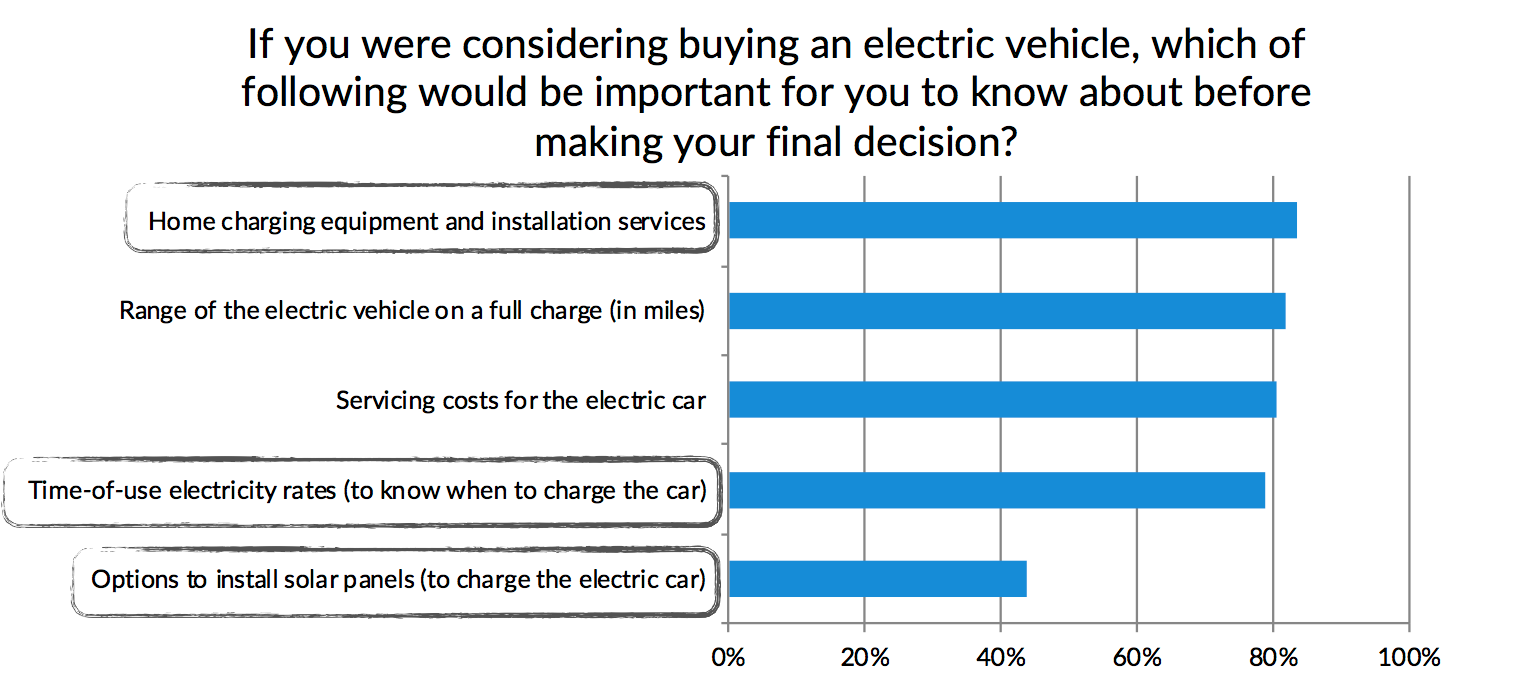 Those in the business of promoting transportation electrification and driving EV uptake can derive three takeaways from these results:
Investing in awareness raising and facilitating consumer choice is as important as overcoming technical barriers to EV adoption.
Awareness and outreach campaigns should ideally be linked to calls to action — and decision platforms that allow car buyers to choose ZEV and more eco-friendly options over conventional models.
Utilities are critical partners in helping car buyers understand the benefits of EVs and make informed purchasing decisions – considering tariffs, solar and home charger options – and people think their utilities should be doing more.
Leading utilities like Con Edison are already integrating EV charging equipment and rooftop solar into their customer-facing, online marketplaces. Providing an effective and engaging decision aid for car purchasing would be the natural and next solution for energy providers to adopt. In doing so, energy providers would be reaffirming their commitment to their customers to help them choose better.
‍
Notes
[1] Driving ZEV
[2] EV Adoption
[3] Enervee Energy Consumer Tracker
[4] Energy Efficiency — Free to Choose?
[5] Utilities' Passion and Hard Work on EV Future, interview with Lisa Wood and Becky Knox.
[6] Car Manufacturers are Moving Fast, Interview with GM's Britta Gross.
‍