Your home, your planet:
20 features to make a difference.
Discover a world of smarter, more efficient shopping options designed to save you money while helping the planet.
Score-powered shopping
Elevate your efficiency game with our exclusive Enervee Score. Higher scores equate to energy bill cuts and a lighter carbon footprint. Be smarter about your appliance choices - shop by score.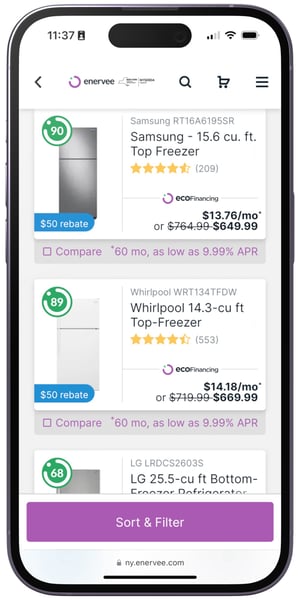 Easy Eco Financing
Get the eco-friendly appliance you've been dreaming of with no upfront cost and unbelievably low monthly payments for the next 5 years*. Our hassle-free application process, approved by the state, ensures that investing in green technology has never been easier or more budget-friendly.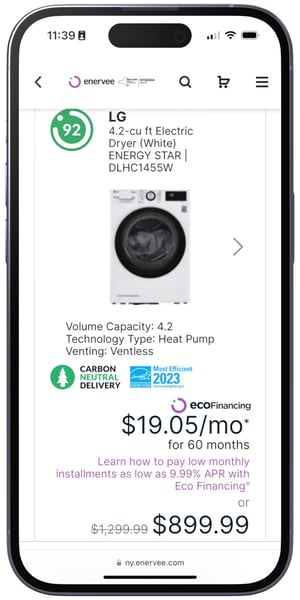 Personalized efficiency. Rebates, savings, and better choices.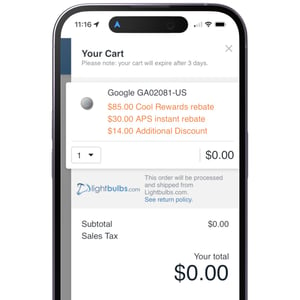 Tap into immediate savings from utilities, governments, and top brands. Lighten your financial load and promote sustainable living.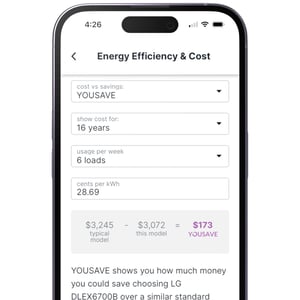 Customize energy savings based on your usage and local rates. Your personal guide to making efficiency easy and tailored just for you.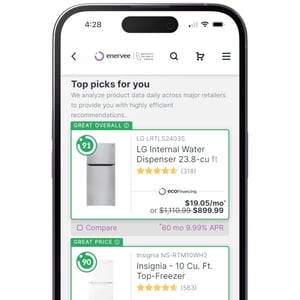 Let AI algorithms recommend the most cost-effective models. Making the best choice has never been this straightforward.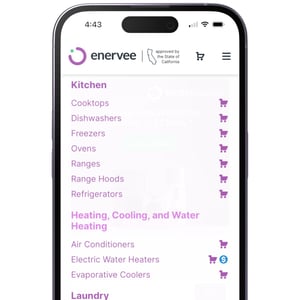 Daily analysis of thousands of products in 40+ categories gives you the best picks without the effort. Your one-stop appliance shop.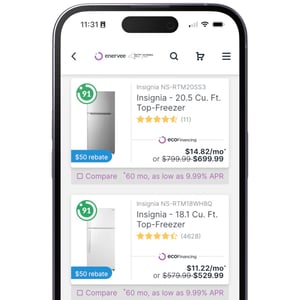 Aggregated user reviews help you gauge product quality quickly. Make informed decisions based on real shopper experiences.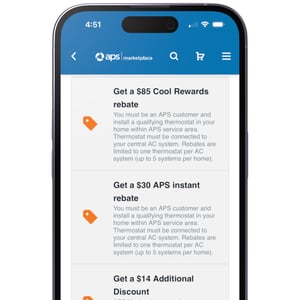 Sign up for utility programs to unlock extra savings and benefits. One simple step can make eco-conscious living even more rewarding.
Compare deals effortlessly
Compare prices and offers across sellers to ensure you're capturing the best value. Make your investment truly count.
Track price trends
90-day price tracking informs your purchase timing. Turn timing into savings by buying when prices are at their lowest.
Be alert to price drops
Get notified when your selected model's price falls by 10% or more. Never miss an opportunity to save.
Swift feature comparisons
Compare up to four models side by side. Streamline your decision-making by easily seeing how features and sizes stack up.
Know the eco impact
Eco View shows the environmental impact of each product. Make choices that are good for you and even better for the Earth.
Guilt-free shipping
We offset 100% of carbon emissions from your delivery. Each purchase comes with an extra dash of peace of mind.
Transparent install costs
Know your installation costs upfront, guaranteed. Eliminate financial surprises and enjoy a smoother setup experience.
Hassle-free hauling
We coordinate the recycling of your old appliances. Focus on enjoying your new, more efficient choices worry-free.
Empower with energy guides
Discover how specific features lead to energy and cost savings. Turn appliance shopping into a learning experience.
Your solar concierge
Meet your dedicated Energy Advisor for solar and battery solutions. Simplify complex choices into easy decisions.
Complete water heater solutions
One package for all: rebates, low-APR financing, and installation. A hassle-free water heater replacement, simplified.
Trust in certification
We're California Green Business certified with CCPA and Soc 2 Type II credentials. Shop confidently; your data is secure.