There's a lot of buzz these days about EVs — cars that have electric motors instead of internal combustion engines. But despite an oft-cited list of plus points — including being fun to drive (with that zippy acceleration!), economical to operate and maintain and reducing greenhouse gas emissions — most people still aren't seriously considering an EV for their next car purchase.
For the 99% of New Yorkers who don't own an EV, however, it's hard to know where to begin to consider EV pros and cons relative to the type of car you'd typically buy.
Enter ConEd Cars, powered by Enervee, announced end of July.
ConEd Cars is a critical complement to other vehicle market transformation efforts, such as vehicle and EV charger incentives, adequate public and workplace charging infrastructure and interoperability and smart rates for EV drivers that encourage charging at times beneficial for the energy system.
New York must have roughly 850,000 EVs on the road by 2025, and the share of EV sales will have to increase from under 1% today to 15% to comply with the state's ZEV target. According to the Auto Alliance, the leading advocacy group for the auto industry, representing 70% of all car and light truck sales in the United States:
The success of New York's ZEV mandate "will require significant change in consumer attitudes and buying behavior".
Electrify America has pointed out that "fewer than 50% of all Americans have ever heard of a Zero Emissions Vehicle and even fewer…have ever researched one," explaining "why ZEV market share is well below 1% nationally, simply because EVs are not being test driven or purchased."
This is where utility-branded vehicle choice engines – (like ConEd Cars) – come in. They are designed to complement EV-specific awareness raising efforts by increasing awareness among all car buyers and allowing them to actually consider EV benefits and options relative to the model they may have originally had in mind. EV-specific car shopping sites tend to have high bounce rates, except for the folks already in the market for an EV.
Speaking to all car buyers, Enervee's mobile-first online platforms feature full specs and personalized total cost of ownership estimates (which we call CLEARCOST) for all new car models. Spanning internal combustion engine (ICE), electric and plug-in hybrid vehicles, the zero to 100 Enervee Score for Cars allows consumers to readily compare vehicles on their relative efficiency – without having to think too hard about it.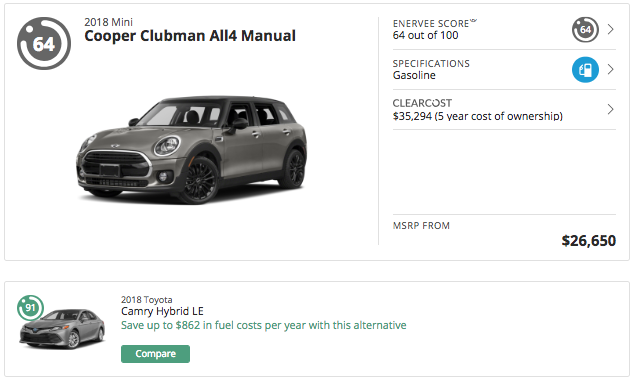 These include battery electric and plug-in hybrid vehicles (like the Toyota Camry Hybrid LE featured above), as well as more efficient ICE models. The share can be expected to grow as more battery, plug-in hybrid and hydrogen fuel cell EV options enter the market; at present, there are no ZEV or hybrid options in the pickup category, for example, and only the Chrysler Pacifica hybrid is available in the van/minivan category.
The recommendations are data-driven and rely on analytics that allow us to identify similar car models that might be relevant to each consumer, something that we'll be able to refine over time.
Stay tuned to find out whether visitors are actually considering those recommendations and taking advantage of federal, state and utility incentives to drive increased EV sales!
Enervee has been working with Con Edison since 2016, and the Cars choice engine is seamlessly integrated with related buying aids, such as for home EV charging equipment and a rooftop solar concierge service (and community solar for folks without their own roofs), so customers can power their cars with clean energy. Research shows that people expect their utility to support them in making these unfamiliar buying decisions, and that they don't consider an EV purchase in isolation.
Transportation sector greenhouse gas (GHG) emissions were 28% of total U.S. GHGs in 2016 and cars and trucks were 83% of that, according to the Environmental Protection Agency (EPA). The EPA has targeted a 36.5% reduction in light duty vehicle fleet GHG emissions by 2025. In New York, progress on energy efficiency and transportation electrification are essential to slash carbon emissions and achieve the state's ambitious GHG reduction target, an 80% cut in emissions by 2050 from 1990 levels.
Our hope is that the Cars choice engines deployed by utilities will empower more consumers to consider EV and other clean vehicle options in the first place and will contribute to a self-sustaining market for EVs, even after mass market incentives are phased out.