Incentives for super-efficient purchases: no-one would knowingly pass-up the opportunity to shave a significant chunk of their new appliance purchase. It is literally free money. Yet we do. A huge swathe of us just give up the chance to get free money when we buy.
This makes no sense for us as consumers. Obviously. But it's also damaging for utilities — every incentive not claimed is an opportunity missed to demonstrate energy savings.
But we know why this happens. Because trying to claim a rebate can feel like trying to climb the highest mountain. In flip flops. It's an undertaking that even Sisyphus would think twice about having a go at.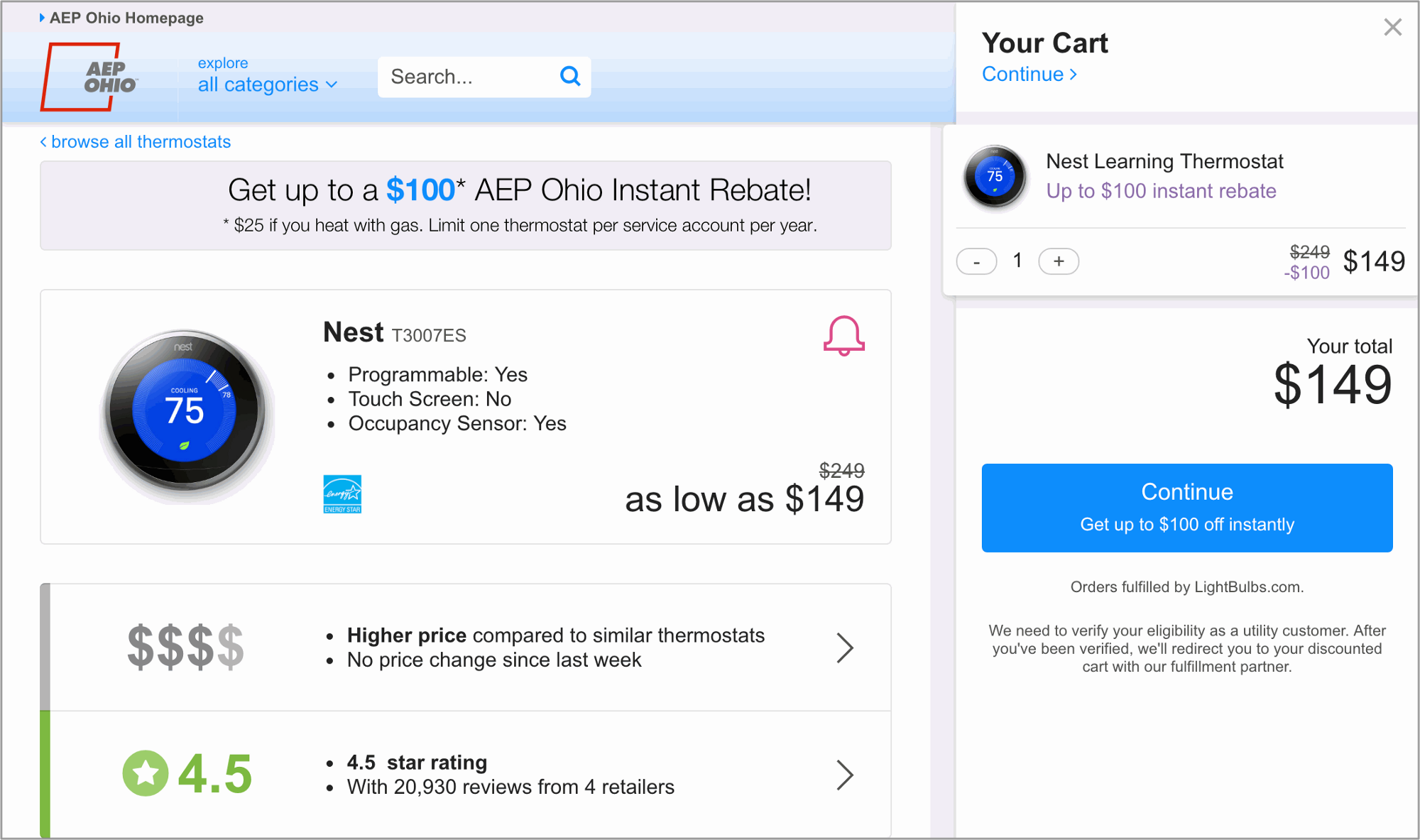 A new incentive to claim an incentive
Which is why Enervee has launched its new Checkout capability on its IDEAL Marketplace. In short, Checkout makes it painless for shoppers to find and take advantage of relevant incentives for their super-efficient purchases.
Free money, without the cost.
Enervee Checkout sets out to change almost everything about the efficiency incentive process — both for the shopper and the utility.
For the shopper, there's no more scrabbling about in the darkest recesses of their utility's website to first find out if there are incentives available for that product, and then whether they as an individual qualify, to then discover some broken link between that information and then the product they want to buy. With Enervee Checkout, incentives are shown in real-time, meaning they can be applied in real-time. For the shopper, claiming the incentive is as easy as buying the product. And with just a few questions, shoppers have a clear view of how much they qualify for, for that specific purchase. It's instant, personalized feedback, right when the customer needs it most.
And for the utility, Enervee Checkout allows for targeted dynamic incentives, meaning the incentive amount can react to characteristics of the shopper (e.g. income), the product (i.e. category and model) or the timing (e.g. a specific campaign). And with customizable qualification criteria, the utility is always confident they are constantly giving the right information to the right shoppers about the right energy smart purchases.
Other benefits for the energy smart shopper include:
● Instant discounts for available products, reducing the purchase price,
● Access to additional promotions and manufacturer discounts,
● Targeted incentives and discounts depending on profile and characteristics,
● The ability to purchase items at full price if verification fails.
● The ability to track status of orders and claims within the shopper's Marketplace profile.
And other benefits for the utility include:
● Real time utility verification of users,
● Flexibility in verification method to comply with regulatory requirements — by zip code, flat file or API call,
● Address validation through SmartyStreets,
● Ability to set business rules for eligibility by product, quantity and time,
● Previous claims verification to avoid double dipping,
● Support targeted incentives, with dynamic discounts (based on user response and/or utility API call),
● The ability to customize qualifying questions for incentive eligibility,
● The ability to collect and report information required to claim savings (e.g., heating fuel for thermostat purchases, influence of utility Marketplace on purchase…),
● Revenue share from each order.
Enervee Checkout has already been rolled out with AEP Ohio (November 2018), with more roll-outs scheduled from early 2019.